Today's History Lesson
...automobiles
With every beginning eventually comes an end. Some are short lived while others exte

n

d well into the future. This is true for mankind, as well as that which is man-made. In other words, nothing on this earth lasts forever. We say our good-byes, well up with tears but there are (
always
will be) the memories.
This Day in History: July 1, 2005
Not the kind of bird that soars to new heights in the sky but the bird that roared along the highway from 1955 to 2005...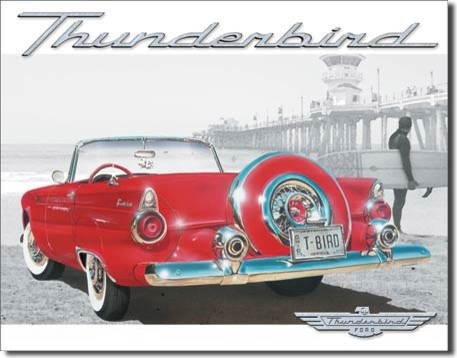 The last Thunderbird, Ford Motor Company's iconic sports car, emerges from a Ford factory in Wixom, Michigan on this day in 2005.

Nostalgia reigns when you think about the Thunderbird. When it first came off the assembly line in 1955, the Thunderbird was Ford's answer to the Chevrolet Corvette. It was an instant success! The Thunderbird has since been included in
an inaugural procession...
John F. Kennedy (1961-1963) obviously knew a looker when he saw one, as his ride of choice was a 1961 Ford Thunderbird convertible. That was the first year for the T-Bird's renowned "Bullet Bird" styling that sported a dramatic spear-like silhouette and packed a choice of V8 engines. It was featured prominently in Kennedy's inaugural parade.

Source: Personal Cars of the Presidents
From Kookie himself, "Thunderbird - that's what's hip on the strip!"
and immortalized in song...
There were 5,000 names considered for the all-new 1955 Thunderbird from Ford. Hep Cat, Beaver, and Detroiter were early, yet undistinguished frontrunners. Also suggested were Runabout, Arcturus, Savile, El Tigre, and Coronado. Ford executive Louis D. Crusoe was unimpressed and offered a $250 suit to anyone who could do better. A young Ford stylist, Alden "Gib" Giberson, submitted the name that would quickly earn approval and eventually acclaim:

Thunderbird

. He thought of the name because he had once lived in the Southwest, where the legend of the Thunderbird was well known. According to that legend, the Thunderbird ruled the sky and was a divine helper of man. The great wings — invisible to mortal man — created the winds and the thunder and provided rains in the arid desert, where fate had brought the Native Americans. The name was fitting for a car that has become an American icon.
Source: Car of the Week: 1955 Ford Thunderbird
Never forget the commercials...