Today in Music History: December 14, 1968
A traditional and long-established style of music is that which is categorized as 'soul'. Soul music originated in the United States in the 50s combining elements of African-American gospel music, rhythm and blues, and often jazz. This genre of music enveloped an R&B sound that transitioned through the 60s on into the 70s. As one of Motown's renaissance men, the spotlight today shines on one who could do it all from songwriting to producing to session man. Most important he possessed a classic R&B voice that had a gritty edge yet had sweetness to it.
Welcome into the Spotlight...
Marvin Gaye
:
60s & 70s soul singer-songwriter with Motown who produced his own records and often addressed controversial themes
Before the days of Motown, Marvin Gaye sang in his father's church and in a vocal group called the Moonglows. At a young age and throughout his childhood, Gaye found peace in music mastering the piano and drums. He developed a love for R&B and doo-wop that would later set the foundation for his career. His phenomenal musical range spanned three vocal styles. Throughout the 60s, Marvin Gaye would demonstrate his immense range, churning out solo dance hits and romantic duets with hit-makers like Diana Ross and Mary Wells.
Gaye's first certified hit under his own name wouldn't come until 1962, but his early years at Motown were full of behind-the-scenes successes. He was a session drummer for Motown legends such as Little Stevie Wonder, The Supremes, The Marvelettes and Martha and the Vandellas. Showing his stripes as Motown's renaissance man, Gaye went on to break into the Top 40 for the first time on his own in 1962 with his solo single "Hitch Hike." [Source: bio.com]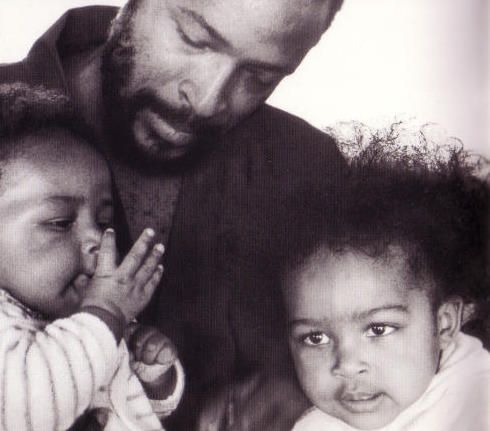 Marvin Gaye created beautiful art from a troubled life. At the end of his career, he admitted he no longer made music for pleasure; instead, he said,
"I record so that I can feed people what they need, what they feel. Hopefully, I record so that I can help someone overcome a bad time."
1968

Marvin Gaye scored his first US No.1 single when 'I Heard It Through The Grapevine' started a five-week run at the top. It was Marvin's 15th solo hit and also his first UK No.1 single in March 69. Written by Norman Whitfield and Barrett Strong in 1966, the single was first recorded by Smokey Robinson & the Miracles as well as Gladys Knight & the Pips.
1969 The Jackson Five made their first network television appearance in the US when they appeared on The Ed Sullivan Show.
1980 Yoko Ono called on fans to observe ten minutes of silence in memory of John Lennon. 30,000 gathered outside St George's Hall in Liverpool, while nearly 100,000 attend a memorial in New York's Central Park.